Business Advocacy Committee Meeting
1005 East Strawbridge Avenue
Melbourne Regional Chamber

Tuesday, November 28, 2023 (8:00 AM - 9:00 AM) (EST)
Mr. Lew Kontnik is an accomplished professional, now retired. His career includes work as an environmental scientist, attorney, entrepreneur, and global anti-counterfeiting expert. He is now active as a leader in several volunteer organizations, including: Vice Chair of the Brevard Indian River Lagoon Coalition, that played an important role in the passage of the Save Our Indian River Lagoon ½ cent sales tax in 2016, and Co-founder of the Indian River Lagoon Roundtable, a group of longtime Brevard environmentalists working to build a better balance between the explosive growth of our Cape Canaveral Spaceport and our enduring quality of life and Lagoon.
Brandon Smith is an Environmental Specialist with Brevard County's Save Our Indian River Lagoon Plan. Prior to joining Brevard County Natural Resources he served as an environmental educator with Brevard County Parks and Recreation for 17 years, running a marine science center in Rockledge. He previously served on the boards of the Florida Marine Science Educators Association (FMSEA), Space Coast Science Education Alliance, Friends of the Carr Refuge, and Sea Turtle Preservation Society. Additionally, he was invited to take on the role of Regional Leader of Florida for the National Network for Ocean and Climate Change Interpretation, where he served for four years.
Don Deis has worked for 45 years in the environmental science field as a consultant to industry and government. His areas of interest include environmental evaluation, assessment, and monitoring of marine, estuarine, and coastal projects; restoration of estuarine and marine ecosystems; impacts of oil and gas exploration, development, and transport; disaster response planning; natural resource damage assessment (NRDA) related to disasters; and environmental rules and regulation. Mr. Deis has authored or coauthored many technical reports and published several papers in his areas of interest.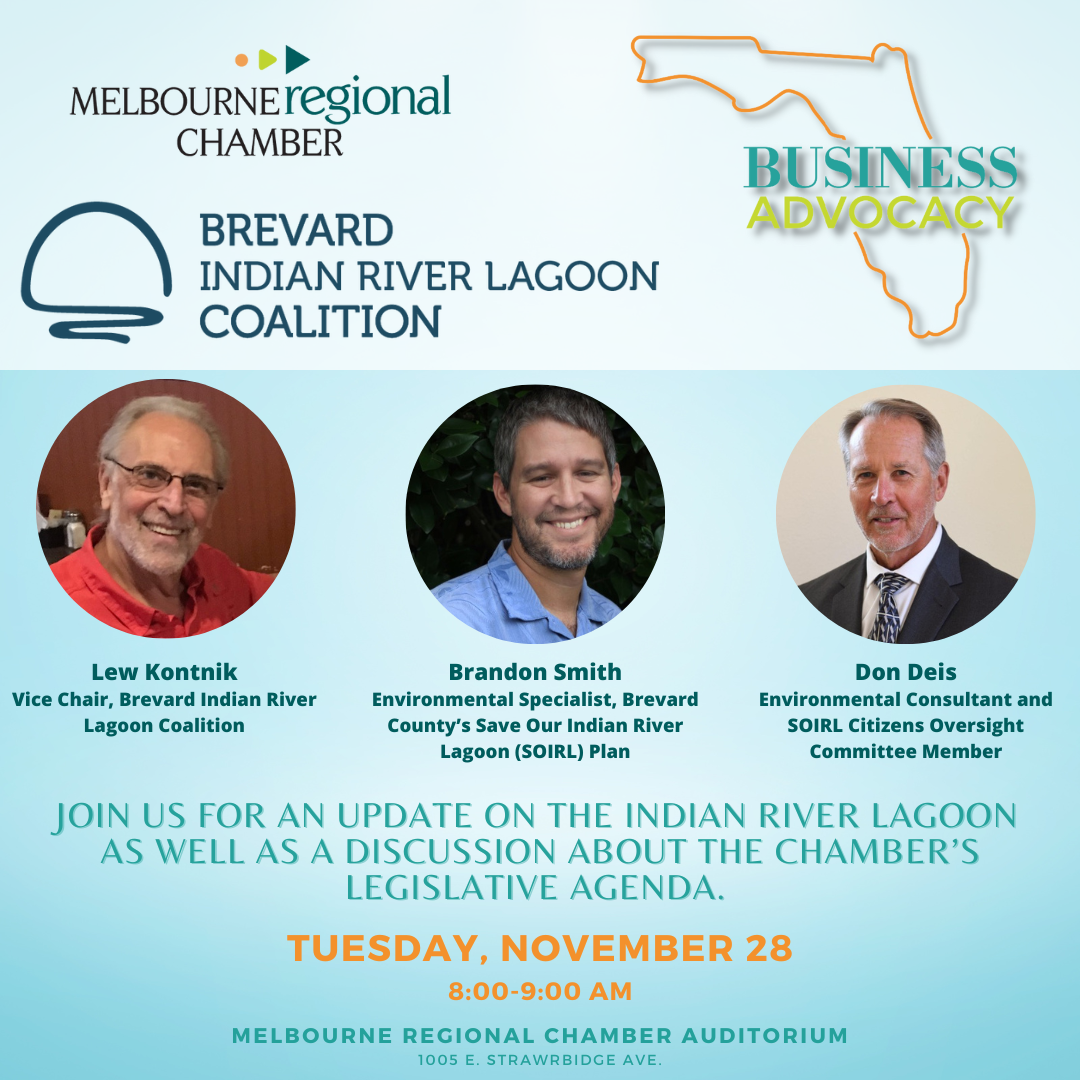 Event Contact:
Megan Szucs
Contact Organization:
Melbourne Regional Chamber